Community Involvement

Crawford Global Day of Service
Crawford presents a $10,000 donation to the American Heart Association in conjunction with its participation in the Metro Atlanta Heart Walk.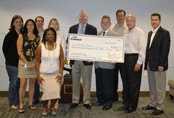 Crawford hosted the Atlanta Charity Golf Tournament, which raised $9,600 for Kids' Chance, a charitable foundation that provides scholarships to children of workers who have been injured in work-related accidents.
At Crawford, we recognize the connection between the success of our communities and the success of our company. To us, the support of our communities begins with an investment in our employees. We do this by providing good jobs with competitive compensation and benefits, and offer training and resources to develop our people both personally and professionally. Our objective has been to improve the quality of life for our people and in communities where we operate by supporting key initiatives, responding to local needs through corporate gifts, as well as the volunteer service of our employees.
Our commitment to helping others also extends across our business. Our company is in a unique position to provide assistance when clients experience a loss, as well as during and after natural and man-made disasters, wherever they occur. And Crawford professionals respond with comprehensive services to help our clients return to wholeness.
Volunteerism
Volunteerism is a significant part of the Crawford culture, and the Crawford Global Day of Service, a company-wide volunteer initiative, has become an annual tradition. Each year since 2009, Crawford has dedicated one day to servicing our communities. On this day, employees from around the world organize volunteer projects in their local communities and work together as a team to enhance their local areas.
In addition to the Global Day of Service, our employees support a number of local and individual service projects, fundraising, and awareness causes throughout the year. These causes include blood and toy drives, food bank donations, children's and church-related activities, and walks for heart health, diabetes, and cancer. Crawford employees are generous with their hands and hearts and truly make a difference in their communities and beyond.
Social and Environmental Responsibility
Crawford maintains a socially responsible way of working on a national scale and combines it with a modern approach to employment, technology, safety and the environment. We operate from a network of offices and home based employees to deliver the vast majority of our services which allows us to cut emissions. We have also cut emissions by installing video conferencing facilities in regional locations and these are in constant demand. Additionally, we reduce paper waste whenever possible.
Crawford works closely with our insurance partners to deliver a level of corporate sustainability which makes a positive impact on insurers and their customers. The issues of sustainability and climate change are taken seriously at Crawford and we are continually evolving to deliver our services in an environmentally responsible way. Visit our Environmental Responsibility page to learn more about our environmental efforts, such as corporate recycling and using alternative energy sources.